The Imperial Chemical Manufacturing Co. was located at 135 W. 23rd, in New York City starting in the 1880s. The Imperial Hair Regenerator Co. co-existed at the same address, and probably came after the original. Sometime before the turn of the century, another location was added at 22 W. 23rd. It is likely that the second location was for the second part of the company. An 1895 ad from Metropolitan Magazine (view) indicated that at that time the Imperial Chemical Mfg. Co. was located at 292 Fifth Avenue in New York City, From 1901 through 1912, they were selling an "Imperial Hair remover," and an "Imperial Shampoo," in addition to the Regenerator. By 1908, only the 135 W. 23rd address was listed. The business was still active in 1930.

The trademark of a shield, a crown, and the words "SANS DISSIMULATION" were registered in 1891 (#19830). They said they had been using the symbols since Jan. of 1891. They had also registered a trademark in 1885 (#12,023) which showed the same symbols.

Other Images: 1898 National Druggist 1898 Shepp's Photographs of the World
1902 Harper's Advertizer 1903 Pearson's Magazine Ad from 1888 Ad from 1899


BOTTLE DESCRIPTIONS
1
Rectangular, 5 3/4", square top, no panels, BIM, aqua, side: "IMPERIAL - CHEMICAL MANUFACTURING CO." front: "IMPERIAL HAIR - TRADE MARK - REGENERATOR" side: "NEW YORK"
2
Rectangular, 4 1/4", Prescription Top, no panels, BIM, aqua, front: "IMPERIAL HAIR - REGENERATOR CO. - NEW YORK - PAT. SEPT. 16TH 1884"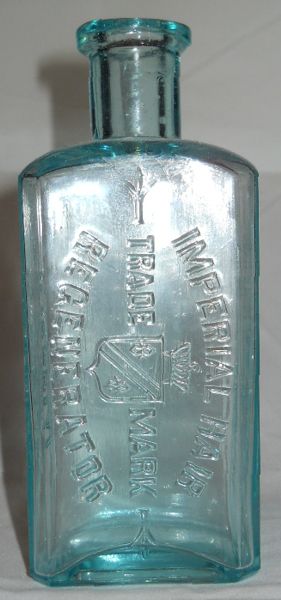 Imperial Hair
Regenerator (1)